Pat first came to the tennis world's attention as a junior player in the early 1980s. He was ranked the top junior player in the world in 1981, and in 1982 he won the junior titles at both Wimbledon and the US Open. He turned professional in 1982 and won his first top-level singles title that year in Melbourne.
Pat established a reputation on the tour as a hard-fighting serve-and-volleyer and for wearing his trademark black-and-white checked headband and his cross earring.
In 1983, Cash became the youngest player to play in a Davis Cup final. He won the decisive singles rubber against Joakim Nyström as Australia defeated Sweden 3–2 to claim the cup.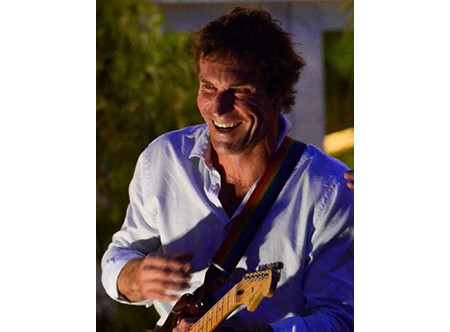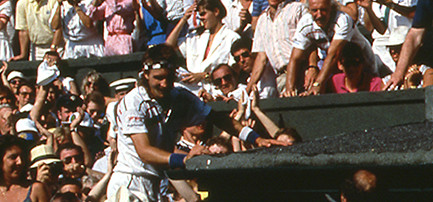 In 1984, Cash reached the men's singles semi-finals at both Wimbledon and the US Open. He lost in three sets in the Wimbledon semi-finals to John McEnroe and was defeated in the semi-finals at the US Open by Ivan Lendl, who won their match in a fifth set tiebreaker. This day regarded as the greatest day in US open history featured the 3 set thriller women's final Evert v Navratilova and a McEnroe v Connors 5 set marathon creating the day now known as 'Super Saturday'.
"HE'S SUCH A BEAUTIFUL VOLLEYER. IF HE GETS HIS HANDS ON ANYTHING AT THE NET THEN IT SEEMS THE POINT'S OVER. HE'S A GREAT CHAMPION. HE'S OBVIOUSLY A GREAT GRASS-COURT CHAMPION. YOU DON'T WIN WIMBLEDON IF YOU'RE NOT."
JIM COURIER, FORMER WORLD NO.1
The crowning moment of Pat's career came at Wimbledon in 1987. Having already beaten Mats Wilander in the quarter-finals and Jimmy Connors in the semi-finals, Cash defeated the World Number 1, Ivan Lendl, in the final. Cash sealed the victory by climbing into the stands and up to the player's box at Centre Court, where he celebrated with his family, girlfriend, and coach, Ian Barclay. This started a Wimbledon tradition that has been followed by many other champions at Wimbledon and other Grand Slam tournaments since. He only lost one set during the entire tournament.